EuroVisions: Wales through the Eyes of European Visitors, 1750–2015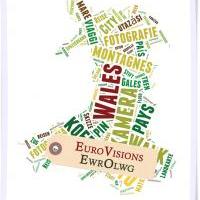 For centuries, continental Europeans have come to Wales for numerous reasons. During the Romantic period some came seeking a rural idyll, whilst others in the Victorian era travelled as industrial spies; and during times of war many refugees escaped to Wales to find shelter from persecution. The exhibited artwork by numerous European artists shows Wales in its many facets, ranging from idyllic landscapes to industrial centres and portraits of the people living in Wales.
EuroVisions was open to the public at Ceredigion Museum in Aberystwyth from 11 July to 27 September 2015. Aside from an interactive and child-friendly exhibition, there were also free public talks and activities for all members of the community.
The first event '"Martyred Belgium": The Belgian National Fete of 21 July 1915' took place on 21 July 2015, 7pm at Ceredigion Museum. Dr Rhian Davies, Artistic Director of the Gregynog Festival, gave an illustrated talk about the distinguished Belgian refugee musicians who fled to mid Wales during the First World War. One of their most striking concerts took place at Aberystwyth's Coliseum Theatre, now Amgueddfa Ceredigion Museum, exactly 100 years ago.
The exhibition has been on show at Swansea Museum, 16 October 2015 to 24 January 2016, before travelling to its final run at Storiel, Bangor, 9 April to 2 July 2016.
Voices from the EuroVisions exhibition
Exhibitions like these show that – even in a small way – there is hope. That maybe one day we will understand that we are all human, regardless of where you're from.
Really enjoyed the exhibition, especially as we're about to set off on a walk across Wales (Aberystwyth to Hay on Wye). Thanks!
Bendigedig! A very interesting exploration of visitors to Wales.
Fascinating exhibition – every piece telling a story – fascinating!
Extremely interesting. Didn't realise how many European artists were included here – all influenced by beautiful Wales.
Gwerth chweil – yn falch fy mod wedi galw. Wedi ei drefnu'r dda a'r lluniau'n tynnu sylw – rhai ohonynt yn brydferth iawn.
I thought it was amazing. I would definitely recommend it to friends and family.
Very interesting and stimulating exhibition. Well worth the visit!
It's a cool exhibition. =)