Events
The following is a list of events that have taken place as part of the "European Travellers" project and the travelling exhibition, EuroVisions.
Ceredigion Museum, Aberystwyth
5 July 2014: Launch of the special issue of Studies in Travel Writing with a talk by Mike Parker.
10 July 2015: Launch of the travelling exhibition EuroVisions with a talk by Mike Parker.
13 July 2015: Fifty children from Year 6 at Ysgol Gymraeg, Aberystwyth, visit EuroVisions.
21 July 2015: Talk by Rhian Davies: "'Martyred Belgium': The Belgian National Fete of 21 July 1915."
14 August 2015: EuroVisions Mini Food Fiesta.
4 September 2015: Screening of Gideon Koppel's film sleep furiously (2008).
12 September 2015: Talk by Michael Freeman: "Landladies, Harpers and Guides: Providing Services for Tourists in Wales, 1770–1870."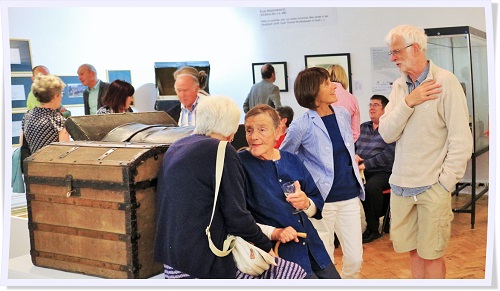 DRWM, National Library of Wales, Aberystwyth
14 September 2015: Public event "Transatlantic Journeys: Big Cities and Inhabited Islands", a conversation between Kirmen Uribe and Ned Thomas, supported by Wales Literature Exchange.
Swansea Museum, Swansea
16 October 2015: Opening night for the second stop of EuroVisions with a talk by Heini Gruffudd.
24 November 2015: "A European Traveller to Wales: Dr Jörg Bernig at Swansea Museum", an evening with the German writer Jörg Bernig in conversation with Tom Cheesman.
28 November 2015: Children's workshop about Christmas traditions in Europe.
15 & 17 December 2015: Poetry writing workshop for refugees and asylum seekers.
13 January 2016: Talk by Gwyn Griffiths: "Fraternity of the Onion sellers and Growers of Roscoff, Brittany."
20 January 2016: Talk by Peter Lord: "Merthyr Blues: Heinz Koppel and His Location in the Welsh Art World."
22 January 2016: Talk by Heini Gruffudd: "Kate Bosse-Griffiths: Two Identities."